Parent or Carer
Parent or Carer
Services and support for children and young people with sight loss, there are lots of ways to get involved, our friendly team are only a phone call away.
Children and Young People Consultation
Can you spare a few minutes to provide your feedback?
Children and Young People Consultation
We are carrying out a survey to better understand how we can support children and young people with sight loss across Leicester, Leicestershire and Rutland now and in the future. If you have time, please can you spare 10 minutes to complete this short questionnaire, please click on the link below and you will be taken to the questionnaire. Your feedback is greatly valued.
Thank you

How we can help
We are passionate about providing the very best services, in hospitals, at home and in local communities.
There for you
Discovering your child has a visual impairment can be a difficult and emotional experience. That's why we offer a support service for children, young people and families. Our range of services supports you every step of the way, starting from initial diagnosis in hospitals through the sight loss journey.
Support for the whole family - our dedicated  family team offers advice, guidance to the whole family, including brothers, sisters, grandparents and carers.
Skills for life - We are there to support your child from their first steps through to their transition into adulthood.
Keeping active - Our trips and activities are a great way to meet families and for your child to make friends and have some fun.
 We offer many activities which you can view on our children and young people page.

Nystagmus - how you can help
The first Wednesday in November is National and International Nystagmus Awareness Day.
Nystagmus can affect children of all ages and make it difficult  for them at school. This short video link below shows you in a few minutes how Nystagmus can affect children at school and what you can do to help the child at school and at home. With advice and tips this video will help you to understand what Nystagmus and how it an affect the child at school and more importantly what you can do to help.

8 Aug 2017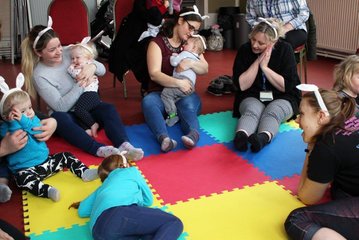 Growing from strength to strength - come and get involved